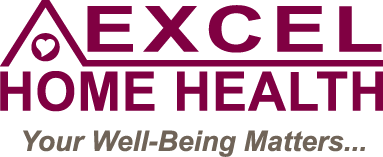 EXCEL HOME HEALTH
is a pro-active, market responsive, regional health care provider, whose mission is to provide high quality health care services for those residing in San Diego County. We are licensed by the California Department of Health Services, and also Medicare and Medi-Cal certified. We are locally owned and operated, based in the city of La Mesa, East County of San Diego, California. Established in 1994, we are the oldest Independent free Standing Medicare Certified agency in the San Diego community that provides intermittent visit care and also shift nursing care. We attribute our longevity to conducting our operations in an ethical manner and always focused on the well being of the patient, thereby earning a stellar reputation in the local community. You can be assured that your patients will be provided with the highest quality of care through a multi-disciplinary approach.
We are committed to providing comprehensive services and quality care to clients in their homes. Our primary goal is to maintain an integrated and coordinated home health care program utilizing a multi-disciplinary approach. We provide the following six disciplines of care via intermittent visits:
Skilled Nursing
Physical Therapy
Occupational Therapy
Speech Therapy
Medical Social Services
Certified Home Health Aide Services
We also provide Shift Nursing Care
by our dedicated nursing team members.
We provide all our services from one location:
5575 Lake Park Way, Suite 220
La Mesa, Ca 91942
Phone (619) 460-6622
Fax (619) 460-6873
We provide services regardless of age, sex, race, color, national origin, religion, medical information, and physical/mental handicap. We thank you for visiting our website, and please contact us either via phone, fax, or email should you have any questions or need our services.
OUR TESTIMONIALS SAY IT BEST
"I love Excel. Your PT and OT could not have been any better. You are a 10 star company including office staff. You always get me on my feet. Thank you. Thank you. Thank you."
— Patricia Y., El Cajon
"My hip surgeon said my recovery was ahead of schedule for my age. He was impressed to see my progress. Thanks to your Physical Therapist."
— Charles A., San Diego
"As a recent patient of your nurse, I would like to commend her approach to medicine. She is a proactive nurse, recommending and getting the surgeons approval for different approaches to treatment. The results were noticeable within days. In short, you have a winner on your staff."
— Barbara R., La Jolla
"I have been in and out of Physical Therapy for the better part of 4 years, and I can say the attention that I received from your Physical Therapist was the best that I have ever received. Thank you."
— Shane C., San Diego
"Your nurse and social worker were very helpful with information I needed for transportation, food services, and handling medications. I thank all of you."
— Onyx J., La Mesa
"Excel is truly excellent and our family appreciates all your staffs' help and support. Thank you."
— Carol W., El Cajon
Excel Home Health © 2020 All Rights Reserved